Pioneering Danish modernist Hans J Wegner famously dedicated his life to the design of "just one good chair". While Wegner thought that designing one was actually impossible, happily for us he kept trying, in the process producing some of the 20th century's most iconic pieces. Wegner never stopped refining: he described the process of creating the Danish style as "a continuous process of purification, and for me of simplification, to cut down to the simplest possible elements".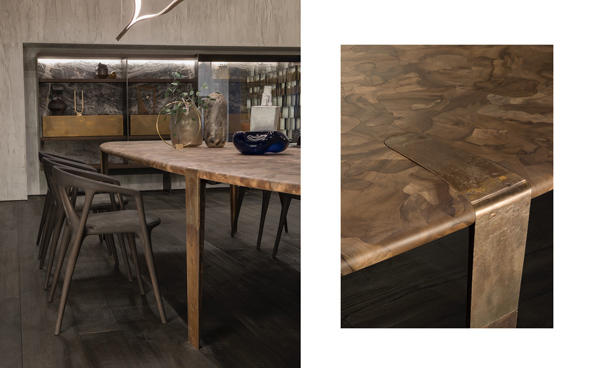 But a great designer needs a great maker, and Wegner's pursuit of perfection was matched by his collaborator Carl Hansen & Søn. In 1949, they created the CH24, better known as the Wishbone Chair. The chair was one of a series of four, including the CH25 Lounge Chair and the CH22 and CH23 chairs, that quickly came to help define Danish design. In a testament to their timelessness, the Wishbone Chair and Lounge Chair have never been out of production, and the CH22 and CH23 have recently been returned. All four display Wegner's ethos of pure, simple design and its relationship with comfort, and Carl Hansen's enduring craftsmanship and respect for material quality and sustainability.

On the other end of the age spectrum, but dialling up the spectacle, is Italian brand Henge. Launched in 2011, Henge shares Wegner's design philosophy, aiming "to understand deeply the needs of human beings and seek to respond to these in functional, emotional and aesthetic terms". It combines this with a strong focus on Italian craft and materiality, with unapologetically luxurious pieces in materials such as platinum, cast bronze, solid wood, stone and leather.

Architect Massimo Castagna, the design force behind the brand, thinks of his pieces as companions for our journey through life; true to this ethos, they embrace visionary modern design that promises to remain current as well as emphasising beautiful craft and material finishes. Statement pieces include the geometric Tangram bookshelves and the postmodern Starlight chandelier, in a range of cast and hand-burnished metals; they and the Oxymoron table in bronze or the stone-topped Primitive bring a warm anchor into any space. Sumptuous leather sofas in the best Italian tradition invite lazy afternoons, while smaller pieces such as the Ghost table lamp in resin with finishes such as platinum, titanium or silver make for stunning accents.
Special Orders are available for Carl Hansen & Søn and Henge - personalise your pieces with a range of options. For more information, please call +852 2118 2288 or contact our staff in store.