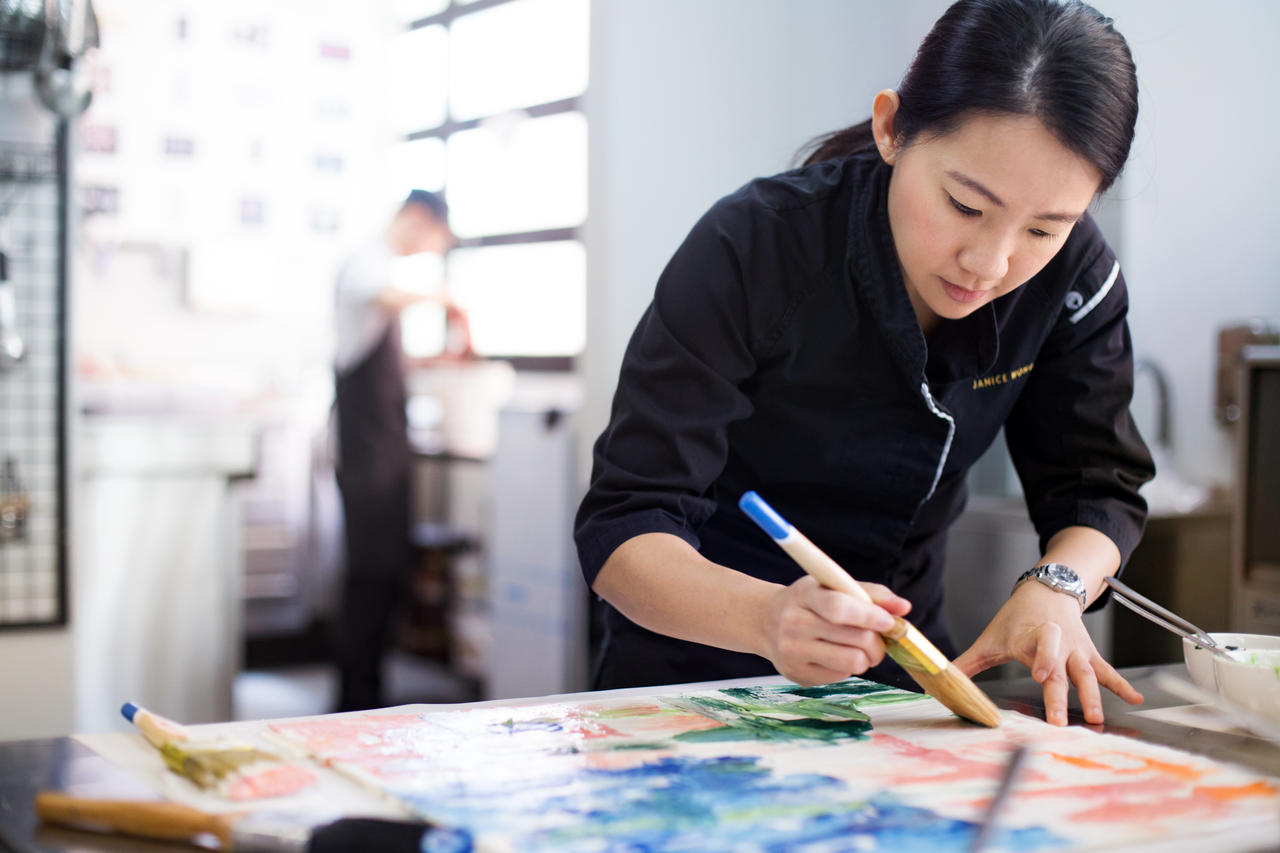 THE ART OF CHOCOLATE WITH JANICE WONG
Discover how the culinary artist will showcase this season's most delectable shoes
In our LC Real Women series, we interview some of the most inspiring, successful and captivating women from Lane Crawford's global community.

Chef Janice Wong is one of Asia's most celebrated culinary masters. After honing her skills with some of the world's best chefs, including prodigious French pastry chef Pierre Hermé, she went onto open her dessert restaurant 2am:dessertbar and her eponymous sweet concept stores, playing with colour, texture, flavour and even perceptions to create unique artworks that evolve as people interact with them.

Janice is the mastermind behind Lane Crawford's Autumn In Hong Kong SAR — an edible journey that celebrates the season's very best edit of designer footwear and accessories. To mark this tantalising installation, we sat down with the chef to talk all things indulgent.
You've crafted quite the edible journey through your installation at Lane Crawford ifc mall Store. Tell us a little about the process.

The inspiration is autumn in Hong Kong SAR, featuring different kinds of floral elements with a warm colour palette to reflect Autumn. It takes about three months from conceptualising to execution for installations around this size and scale. For this project we used about 200 kilograms of chocolate and 150 kilograms of isomalt for the corals.
It looks fantastically fun to dream up your installations. What are the challenges behind the scenes?

I'd say the biggest challenge is in coming up with new ideas. We want to be innovating and creating something new every time we do an installation, so this is the toughest and most crucial part of the process.
What kind of shoes do you see yourself indulging in this Autumn?

As a chef, I'm always on my feet, so comfort is as important to me as style. I tend to gravitate towards white sneakers — they're sleek, comfortable and go well with most of my day-to-day outfits. I like brown-toned shoes because of their balance of utility and style.
What would you consider as the ultimate indulgence?


Having a big blank canvas to paint on is the ultimate indulgence for an artist. The canvas could be in any medium — painting the walls, painting the streets or even a fashion item.
It's your last meal ever. What are you eating?

My mum's sweet and sour pork — my ultimate comfort food.
Join Lane Crawford for Autumn In Hong Kong SAR on Tuesday, September 24, from 11:00am to 5:00pm at Lane Crawford ifc mall. Explore Lane Crawford's latest Autumn Winter 2019 footwear arrivals, and allow Janice Wong to take you through a unique sensory experience, one bite at a time. The installation will be displayed until November 7.