Surfer Girl Bot Bring back the goddess pin up with

legendary artist, Sorayama
Sorayama first drew his first mechanised robot in 1978, way ahead of the current AI and robotics boom. The seventy-something Japanese artist calls his meticulous work 'super realism.' "My first was a robot created for Suntory whisky advertising - the 'bot' is depicted drinking on a rock in outer space. There is no reason for my fascination, only that I was obsessed with shiny metallic stuff since childhood," he says.
The legendary graphic artist has conjured up a dynamic surfer girl bot exclusively for Lane Crawford. She first began life as a 3D figurine, expertly hand crafted. In 2D she is seen to glide over the surface of phone jackets, baseball caps, skate decks and even a pack of cards in all her gleaming physical glory.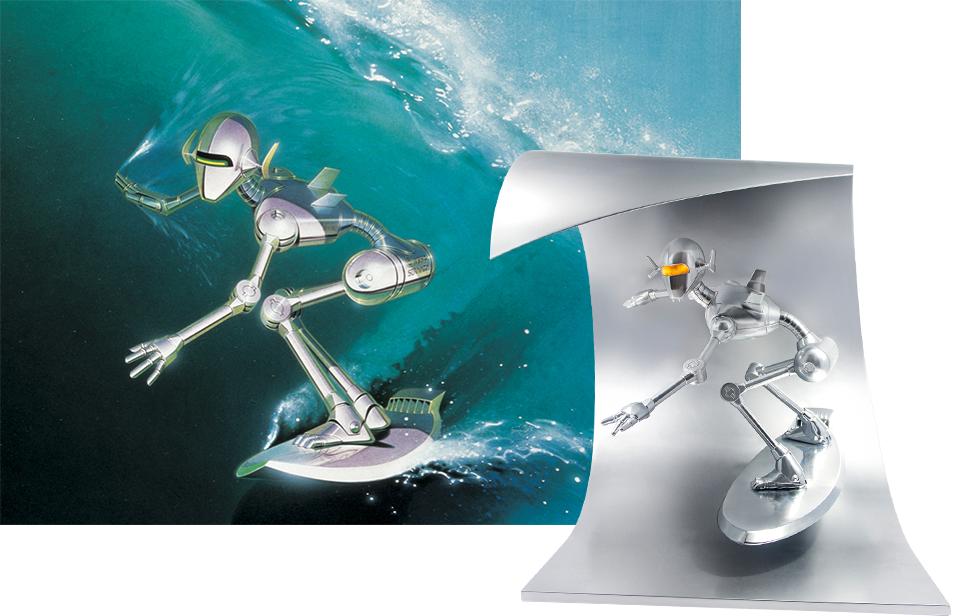 Like many 'bots' that preceded her, Sorayama considers all of them as kindred spirits. "I paint all my works as my children," says the artist. While current style is fascinated by 'girl next door' figures, Sorayama is a champion of fantasy goddesses. The image maker, who first began drawing pin-ups as a schoolboy also created the templates for Sony's first Robotic pet, Aibo, the first mass produced AI robot. He has printed a slew of books including Sexy Robot (1983) that have won him a fanatic following around the world. Icons considered, we think Rolls Royce's Spirit of Ecstasy would make a very good match with our Surfer Girl.