Step into the world of Sacai Chitose Abe delivers a stellar special that spans lipsticks to trucker jackets
Photography by Tim Wong / Styling by Declan Chan / Makeup by Aurore Gibrien / Hair by Yann Turchi / Words by Harriet Quick
Sometimes in style there is no better place to start than your very own truth-telling closet. Chitose Abe, Sacai's founder and creative head, investigated her own wardrobe as part of the research for the exclusive collections she has designed for Lane Crawford. What she found were dear favourites from Nike and English duffle coat maker, Gloverall (inspiring a series of collaborations) alongside her own joyful hybrid designs that ingeniously morph shirts and bomber jackets, polos and tees, joggers and jeans.
"For the customers and the store who have supported Sacai for such a long time, I wanted to do something special and also fun. The theme that came up was my closet and all my favourite things gathered at once," says the Tokyo dwelling Abe. The Comme des Garçons alumni started her own business in 1999 with ten balls of wool fuelled by a vision to create clothes that she wanted to wear. Decades later and Sacai has become an innovative, smart lifestyle brand.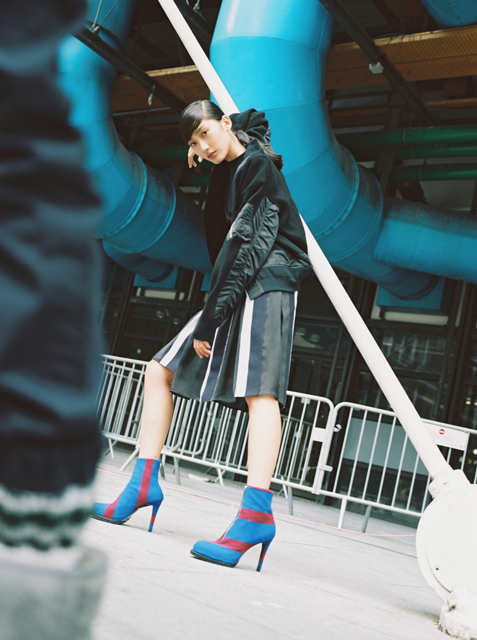 The upshot is a series for men, women and kids that will ignite your look this fall. Cue swing back trucker jackets, stripe shirt dresses and kilt skirts in denim and wool for women; graphic sweaters and toppers for men in a mélange of black, grey, navy and khaki plus collar topped T-shirts that look brilliantly 'unhinged'. There's a treat waiting for the young ones with mini kilts, track pants and hoodies spliced together from jersey, cotton and denim. "Everything is easy to wear regardless of where you are going and what you are doing. To make it special, I used Sacai's signature silhouette but with new materials and combinations," remarks Abe.
But the fun does not stop there. Abe does not do things by halves. Sacai partnered with a bunch of like-minded brands, from global mega label Nike to British outerwear specialists Gloverall, beauty behemoth Shiseido and ceramic masters Astier de Villatte, to make exclusive pieces that run the gamut of fringe-topped sneakers, a bravado line of lipsticks and a love cup with two handles. Collaborations are common in fashion, but these have punch. "I enjoy putting a playful twist on the classic items from our collaborative partners - things that you already feel comfortable with. Working on my cherished things always creates a totally new magnetism. Most importantly, I want to preserve the goodness of both sides," remarks Abe. In this 360 partnership - there is happiness all round.