Simplifying Your Skincare How much does your skin

actually need?
Jetsetter, stylist and influencer Veronica Li is no stranger to the pressures of looking her best wherever she goes. Constantly flitting from one glamorous location to another under the tutelage of various brands, here's how she learned to filter out the noise and figure out what works best for her skin.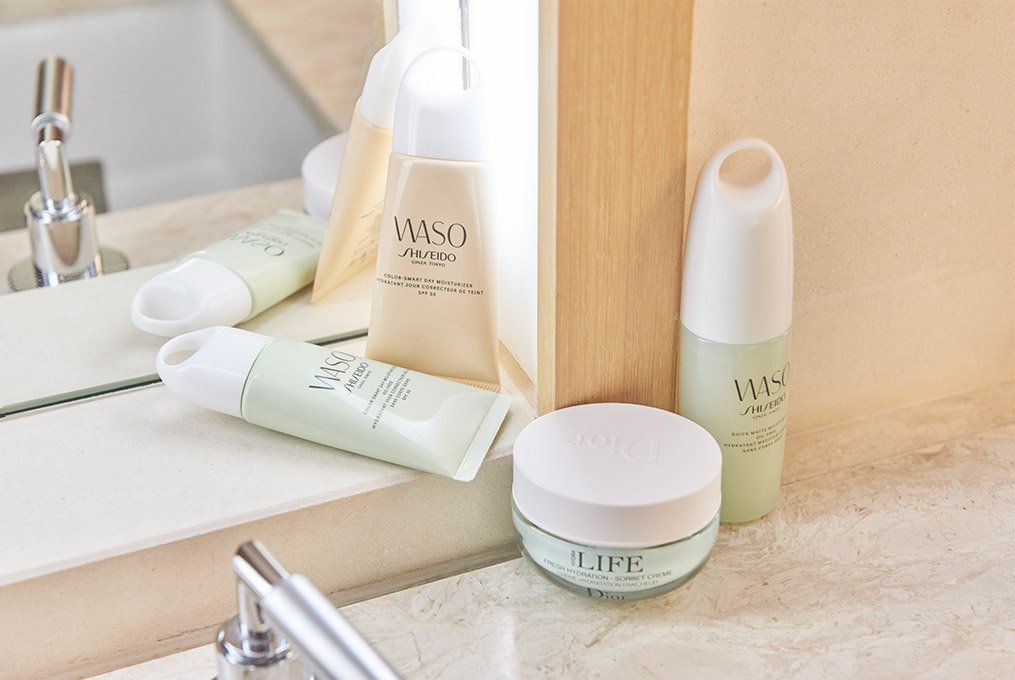 "Growing up, I lived with the misconception that I needed a lot of products to get that ad-perfect skin. During that time, I was most insecure about my pimples which I constantly tried to cover up. It seriously impacted my self-confidence and I would worry that people were looking at my skin when they talked to me, and it wasn't until I grew up that I realised it was because I was putting too much on my skin.
I get gifted a lot of products and after trying so many I've come to realise that my skin actually needs very little. I once went to Switzerland for a brand and I got locked out of my suitcase for three days, which meant I didn't use any products and my skin actually cleared up. Our skin has its own immune system and sometimes the less you do, the more it's able to repair itself and grow stronger. I used to think the thicker the moisturiser the better, but actually, just cleansing and hydrating my skin sufficiently every day makes it less reactive to environmental changes.
I simplified my routine to the bare basics - cleanse, exfoliate and moisturise - but I became religious about maintaining it both morning and night. I learned not to just rely on quick pick me up beauty products to 'fix' things. But I still like to discover new things and at the moment my current favourites are the Dior Hydra Life Time to Glow powder because it feels like I'm doing two steps at once, washing my face while gently exfoliating, and the Shiseido Waso Fresh Jelly Lotion because it's so lightweight I feel like I barely have anything on. They save me so much time in the morning and make my skin feel perfectly balanced, which is so important in this humidity and when I'm running around with clients all day.
As a stylist, it's hard not to be seduced by the look of products so I also love the colourful packaging which looks so good on my bathroom shelf!"