Seven Steps
Meet your holistic skincare routine
This spring, we're delivering a selection of efficacious products and expert knowledge to help you with your personal skin goals. To get the most out of our selection of superstar offerings, we're presenting information on their benefits, when and how to use them, and exclusive Lane Crawford tips. No matter your skin type or skin concern, our comprehensive seven-step routine will ensure healthy skin that looks and feels its best. Remember to perform a patch test, follow individual product instructions to get the best results, and consult your dermatologist in case of persistent skin concerns. Read on for more.
Exclusive online offer:
From now until April 30, receive Gothamista's Beauty Standards Deluxe Kit (valued at HK$1,512), including:
Tatcha – The Camelia Cleansing Oil 25ml
Paula's Choice - Skin Perfecting 2% BHA Liquid Exfoliant 30ml
Poems from The Lab – Future Focus Vitamin-C 2ml
Skin Ceuticals – C E Ferulic 15ml
Saro de Rue – Freeze Dried Hyaluronic Acid Anti-Aging System 14-Day Pack
Yina – Divine Bio-cellulose Mask x 1pc
Upon HK$1,000 purchase of our below seven-step skincare routine edit online. While stocks last. Other terms and conditions apply.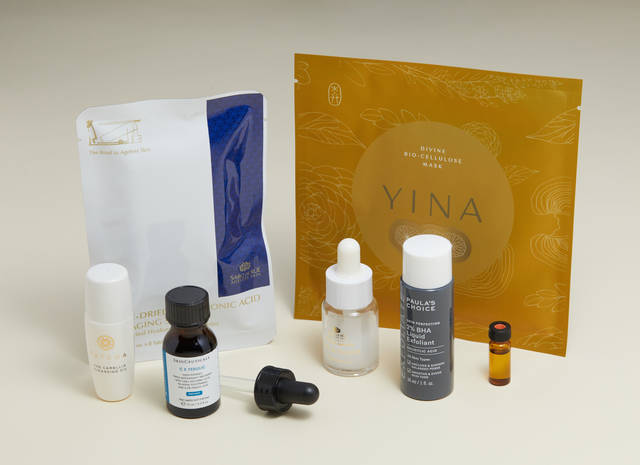 这个春天,连卡佛将为你奉上明星产品和专业知识,以助你实现个人护肤目标。这些产品是我们甄选出的高效产品,我们会帮助你了解它们的功效及使用方式,另外,我们还将送上连卡佛独家温馨提示。不论你的皮肤类型或皮肤问题如何,我们全面的七步程序都将助你打造更健康的皮肤状态,实现更佳的肌肤触感及外观。仍需注意的是,如有皮肤敏感,请考虑进行皮肤斑贴试验。如果你想获得最佳效果,应该寻求个性化的护肤建议。详情请阅读下方。
线上独享优惠:
即日起至 4 月 30 日,线上购买下方所示七步护肤程序甄选产品满 HK$1,000,即可获赠价值 HK$1,512 的 Gothamista Beauty Standards 豪华套装一份。套装包含:
Tatcha 纯净山茶花卸妆油 25ml
Paula's Choice 水杨酸焕采精华液 30ml
Poems from The Lab Future Focus 维他命 C 精华 2ml
Skin Ceuticals 浓缩维他命CE精华 15ml
Saro de Rue 冻干透明质酸抗衰老套装(14天装)
Yina – Divine 生物纤维素面膜单片装
数量有限,赠完即止。受其它条款及细则约束。