SUPPORT LOCAL: COMMON FARMS
With co-founder and urban farmer, Jessica Fong
In our second episode of the Lane Crawford podcast, our Head of Content, Christel, chats with Jessica Fong, one of the founders of Common Farms, a small business that is innovating what indoor or urban farming is in Hong Kong.

Common Farms is arguably Hong Kong's top local source for specialty produce, meaning they grow and sell micro greens, edible flowers, seeds, grow kits and more. You might find Common Farms' produce in dishes at places like neo-Parisian bistro Belon, contemporary British restaurant Roganic, Giando's Italian restaurant and bar, SoHo staple Ho Lee Fook, in the concoctions of matcha mavens Matcha-Li, as well as the kitchens of various notable private chefs.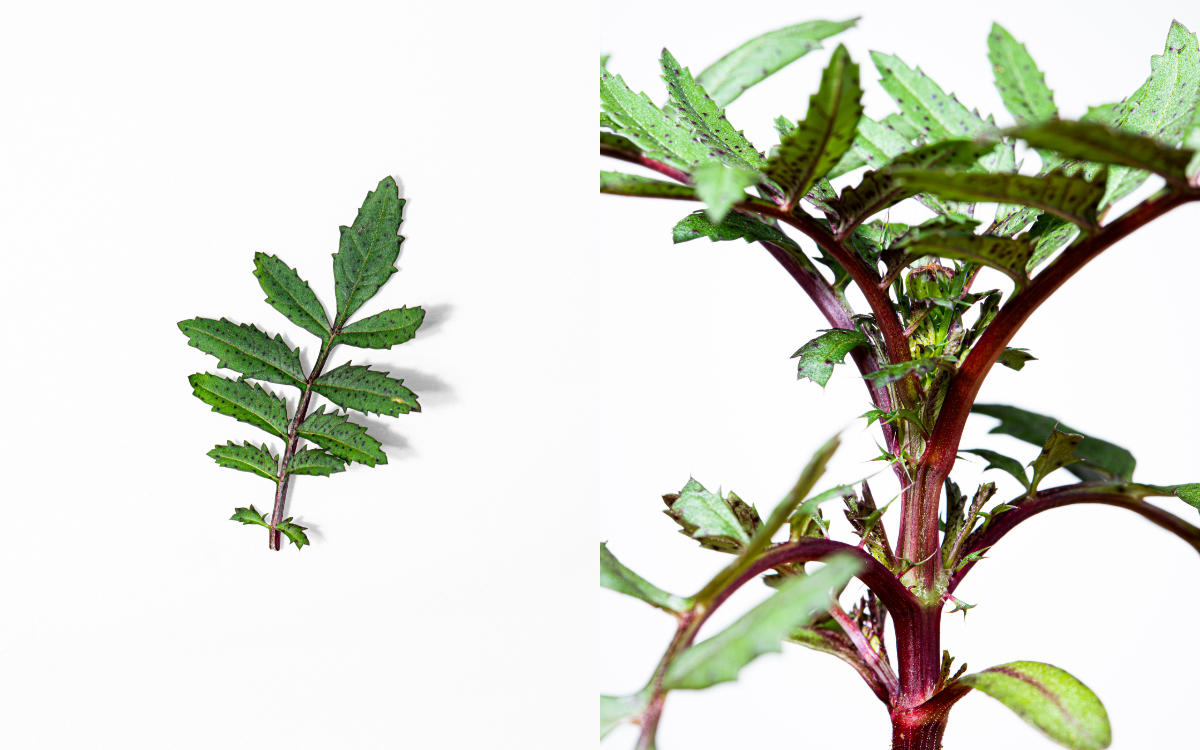 Marigold
Bok choy
Green pea
Peruvian physalis
Nasturtium
Dianthus
Listen to episode 2 of our podcast above, or read the transcript of it below, to discover how the trio came to the decision to sow some seeds to see what they could reap.
CHRISTEL: 你好 Jessica。
JESSICA: 你好。
CHRISTEL: 歡迎來到連卡佛播客。
JESSICA: 謝謝。
CHRISTEL: 我先來介紹一下 Jessica,好讓大家知道我和她的深厚友情。
JESSICA: 我正在回想我們相識的時間。
CHRISTEL: 但我們相識已久了。我記得多年前,我們初次在巴黎相遇,然後當我初次抵達香港時我們又偶遇,距今也已好久。請你詳細講述一下,好讓聽眾們了解你是如何前往巴黎的,然後你如何……
CHRISTEL: Jessica,介紹一下你自己。你是誰?
JESSICA: 我長話短說。我盡量長話短說,我們是在我住在巴黎的時候相識的。我當時正在巴黎學習。
CHRISTEL: 你當時在學什麼呢?
JESSICA: 我當時正在讀商科雙學位,主攻通訊。同時我也曾在時裝領域學習和工作過,因為我想我需要接觸商務領域,但我專門來到巴黎想涉足時裝界。但幾年之後我發現時裝界並不適合我,我喜歡上了建築。然後我爸爸讓我回到香港,我便回到了香港。而我去巴黎是我對我媽媽讓我去加拿大的反抗,我說"不,因為這是你讓我去做的。" 而去英國是因為香港學生太多了,我覺得我的才能會被埋沒,而我不希望這樣。去澳洲的原因也是如此,但美國是我真正想去的地方,但我就是想去巴黎生活。因為我們小時候爸爸曾帶我們去過巴黎,那裡是我很喜歡的一座歐洲城市。我當時心裡想,我一定要在那裡生活。
但讓我驚訝的是,我爸爸說:"聽我說,我支持你去巴黎,因為我希望你能了解更多的文化。" 就這樣我去巴黎待了一年,本打算待一年,結果待了四年。
CHRISTEL: 巴黎就是巴黎。
JESSICA: 嗯。
CHRISTEL: 那麼,當你回到香港後做了什麼? 只是想知道你是如何開始從事……
JESSICA: 我還是……我現在仍不知道我在做什麼。可能我有點畫地為牢,但我仍不知道哪些是未知的。但在我回來之後,我覺得很多人並不知道這一點,但我真心想幫助我爸爸的製造公司,因此我常常來到中國。而當企業面臨破產時,我……我回來後非常迷茫。 我覺得我要進入公司幫助我爸爸,因為我年輕氣盛,充滿活力,我學到了很多。我有大學學歷,所以我會進入公司,我知道我一定會的。當我不知道我在做什麼或我想去哪裡的時候,你要知道,我心中積怨甚多,非常沮喪和焦慮,百感交集。
這些情緒很難克服,而如果你的父母是很傳統的中國人,更為如此。但幸運的是,他們給了我很多空間讓我決定我想做的事,讓我自己去面對我會犯的錯誤。
我想很多人以為我會回來,好像我有一個銀行賬戶等着我去花。真的不是這樣的,我回來了,我甚至不知道我家庭面臨着多麼大的經濟問題。正是因為這些原因我心中積了很多怨恨。而你知道,要想戰勝這些情緒,只有試圖解決所有問題。逐一發現並解決問題。這基本就是過去幾年我的狀態。和我爸爸一起工作讓我意識到那並不是我想做的,那不是我能夠帶來價值的工作,也不是我的興趣所在。但我想,改善我和他關係的理想方式便是從中抽身。然後我進入了餐飲業,對此我想每個人……
CHRISTEL: Hi Jessica!
JESSICA: Hey!
CHRISTEL: Welcome to the Lane Crawford podcast.
JESSICA: Thank you so much.
CHRISTEL: So, let me start by introducing Jessica and just letting you all know that I've known her for quite a long time.
JESSICA: I was trying to think when.
I remember we first met in Paris many years ago, and then we met again quite randomly in Hong Kong when I first arrived. So, if you can fill in and let anyone who's listening know how you got to Paris and then how you kind of like –
CHRISTEL: Who are you, Jess? Who are you?
JESSICA: I'll try to keep it short, but we met in Paris because I was living in Paris. I was studying in Paris then.
CHRISTEL: What were you studying at the time?
JESSICA: I was doing a double in business and communications with intention. I was studying and working in fashion as well, because I was like, "Oh I need to deal with the business component". I was intentionally in Paris and wanting to work towards fashion. And then it wasn't for me after, I think, a couple of years of that. Then I fell in love with architecture. My dad then pulled me back and that's when I ended up in Hong Kong. Paris was because I was in my rebellious years and my mum told me to go to Canada, and I was like, "No! Because you told me to do that." And then with the UK, because the population of Hong Kong students is just immense, I felt like I was going to be a small fish in a big pond – I did not want to do that. Same thing with Australia. The US was the only place I was really going to go to but I wanted to live in Paris because when we were younger, my dad took us there and it was my favourite European city. I was like, "I'll just live there."
And surprisingly enough my dad said, "You know what? I'm going to support you for that because I want you to gather more culture." So, I went there for a year – well, intended a year, and it turned out to be four years. That was that, and Paris is great.
CHRISTEL: Paris is Paris.
JESSICA: Yeah.
CHRISTEL: So, when you moved back to Hong Kong, where did your path take you? Just to set up the backdrop of how you started coming from –
JESSICA: I still – well, I still don't know what I'm doing. But I still don't know what I don't know. When I came back – I think most people don't know this – it was with the intention to help my dad with his manufacturing business, so I ended up in China a lot. And the business was about to go bankrupt and it did…
I was so lost when I came back. I thought I was going to come in and help my dad and, you know, because you're young and you're dynamic and I had learned so much, I had graduated from college. So, I was going to come in, I knew what I was going to do; when I really didn't know what I was doing or where I wanted to go. There was a lot of resentment, frustration and anxiety – just everything combined.
And it was really hard to navigate through it, especially when your parents are more traditional Chinese. But they did, to their credit, give me a lot of room to decide what I wanted to do. And it was for me to make the mistakes that I needed to make.
I think a lot of people thought I was coming back, that I had a bank account waiting for me to spend. I really didn't have that. I didn't even realise how much financial trouble my family was in. So… you build a lot of resilience through it. The only way to survive was trying to move through all the shit. Dig through and strip it one by one. That's kind of where the past few years have been. So, working with my dad made me realise that's not what I wanted to do, and that's not where I can bring the most value. It's not where my interest is at. But I think the best way of moving forward for my relationship with him was to remove myself. Then, I kind of ended up in the restaurant business, which I think everyone –