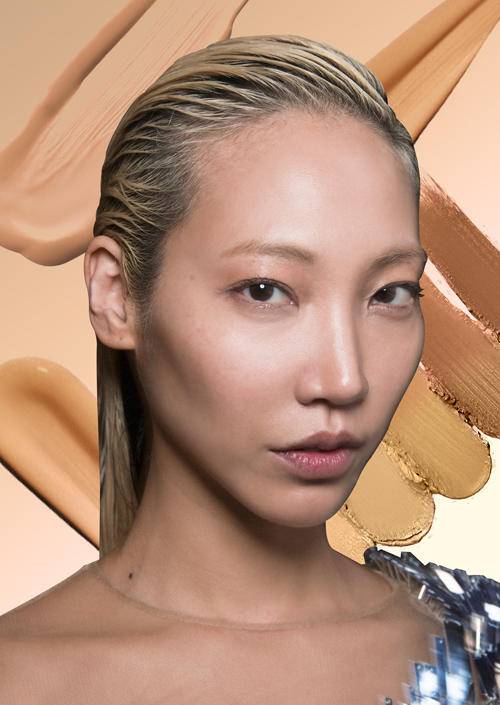 Make the formula yours
It's all well and fine if light-coverage foundation or BB creams are sufficient for your skin, but if you want the flawlessness that only comes with full-coverage formulas, sometimes you have to make the recipe work for you. Luckily, that's not difficult at all — add moisturiser, facial oil or an even runnier liquid foundation to one that's too thick or heavy in texture until it's a more spreadable consistency.
Use the right tools the right way
There's no holy grail when it comes to the right applicator; different formulas call for different tools, and personal preference is a big factor. Some swear by the BEAUTYBLENDER for that pore-blurring finish, but remember to use it damp or it's just eating up product. Others prefer a flat-topped foundation brush that works for stippling, pressing the product into the skin for a more seamless look.
Colour-match your undertone
While you can go to the counter and get your precise shade match, remember that your skin doesn't stay the exact same colour throughout the year, even with religious use of SPF. Getting an extra bottle that's darker or lighter will help you stay colour-true year-round. And don't forget to match your undertone — skin tones can be warm, cool or neutral, and a beauty advisor is best placed to help you decide which category you fall into.
Prime judiciously
Primer is probably a no-brainer for anyone in this humid climate, particularly when your make-up has to last from your morning commute to your last cocktail. But the type of primer you use — and how many you use — is also important. Dry skin will benefit from hydrating primers, those with large pores may want a silicone-based one with a blurring effect, or you might elect to go with an illuminating cream that gives you that lit-from-within glow. What's important to know is that you can do more than one primer — for example, a hydrating primer all over, followed by a tacky long-wear formula to keep your foundation in place in the oily T-zone, and an illuminating one for the cheeks and forehead.
Set it and forget it
Primer is but half the battle — setting your foundation with powder will help it stay in place and make it more transfer-proof, so your crisp white collar and lunch napkins stay clean. If you want to avoid that powdery, overdone look, make sure to mist liberally with a setting spray (or even a regular facial mist) so your layers of make-up melt and meld into a flawless, dewy finish.