Laundry Matters
How to care for your clothes
when you're homebound
Household chores have taken on a new meaning. Gone are the days of leisurely hanging around a laundromat, not to mention hiring a handyman or casually heading to the supermarket for an errand run. If we're homebound, these daily tasks are all in our hands—literally.
A little nervousness around this subject is quite natural, but that needn't put you off. To tackle clothing care, our team at Lane Crawford has uncovered easy and effective solutions below to address some of your laundry concerns.
What should people do if they're worried about keeping their clothes extra clean after going outside?
Consider putting your "outside clothes" in a bag that is separate from your other laundry when you get home. Let the clothes rest for at least 24 hours before washing it. After that, you can wash as you normally would. Don't forget to use the highest water temperature that is safe for the fabrics you're washing. Dry everything thoroughly before folding it.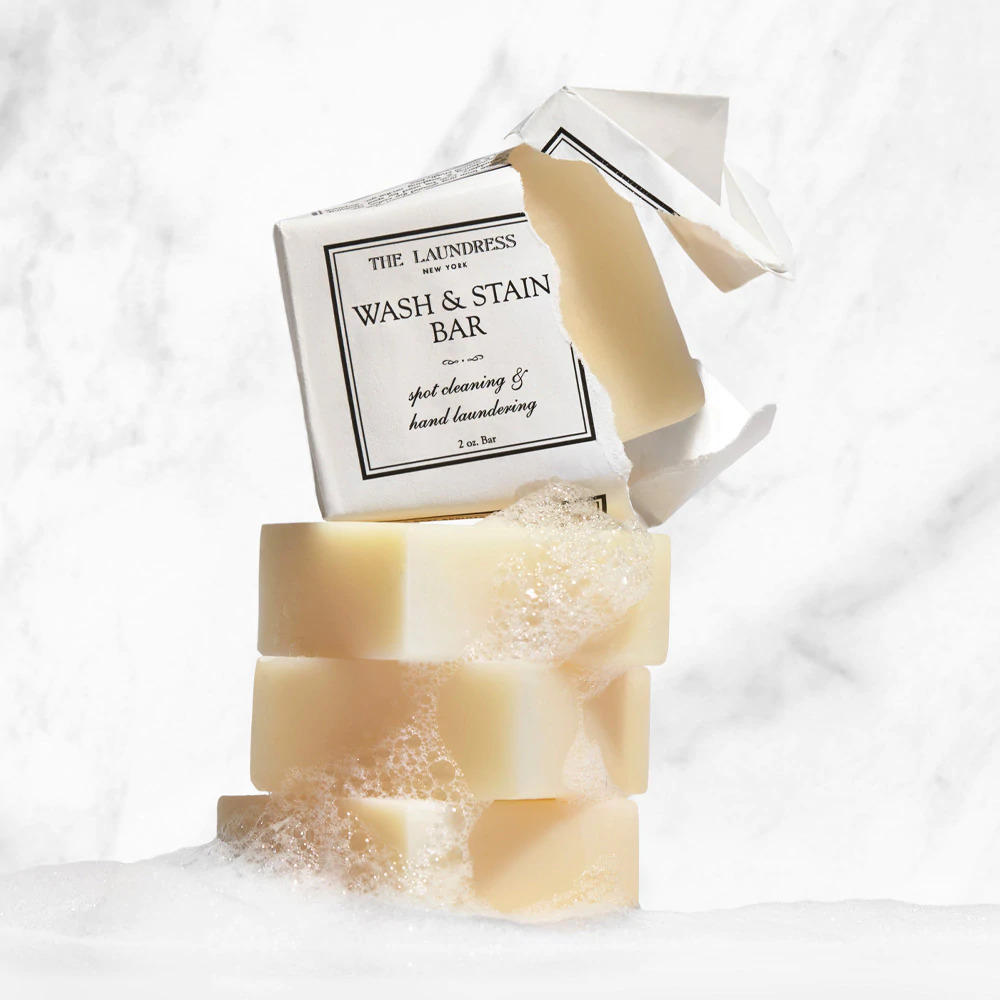 Are there any tips for hand-washing clothes at home?
Instead of waiting for a pile to amass, the way you might if you're trying to fill a machine, it's best to hand wash as you go, little by little. When you spend most of your time at home, it's likely you're choosing to wear pieces that are easy to wash anyway—comfortable cotton, for example—so it'll be easy to hand wash those in a sink or bucket with a little liquid detergent. Make sure not to overdo it with the detergent (excess detergent leads to buildup on fabric, which can trap odour-causing bacteria).
Pretreat the item as needed for stains using the Wash & Stain Bar or Stain Solution, then turn the item inside out.

Add laundry detergent or soap, like The Laundress' Delicate Wash, the ideal detergent for handwashing, and mix to prepare the bath.

Submerge the item, use your hands to agitate the water and detergent and soak items for up to 30 minutes. Never soak silk items for longer than 30 minutes.

Rinse well. Use room temperature or cold water until the soapy water is gone and press out the water.

Press the item against the sink or basin to remove excess water, be sure not to wring or twist the item.
How do you treat stains?
The moment you get an acidic stain like coffee, tea, or fruit juice, pour some household white vinegar on it, rinse it out with water, and hand wash immediately. If you get a grease stain, try not to reach for conventional dishwashing soap because it might have optical brighteners, which could leave you with a patch that looks lighter or bleached.
Pretreat the stain with The Laundress' Wash and Stain Bar or apply the Stain Solution directly onto affected areas. Then, use your finger to work the solution into the fabric and soak it in a tub of hot water. If the stain is not completely gone, repeat the process until you're satisfied.
Any advice on caring for more delicate pieces, including silks and sweaters?
We advise people to avoid dry cleaning, as it's a chemical process, so hand-washing silks and wool sweaters is better. Do not machine wash unless your washer has specialty settings for wool or delicates as the washing machine can damage delicate pieces and cause wool pieces to shrink.
Make sure to handle the garment gently. Try using The Laundress' Delicate Wash that's especially designed to clean and treat these investment pieces. Submerge in water and lightly massage your garment; avoid rubbing or scrubbing.
Shop our edit of exceptional laundry solutions from The Laundress below.