This season, create your own interior festive feel with ideas from three differing aesthetics: a warm and rustic Scandinavian lodge, a coolly glam sanctuary all dressed in white, and an over-the-top winter wonderland.

Let these inspire your own moodboards for everything from dressing the tree to jazzing up the fireplace.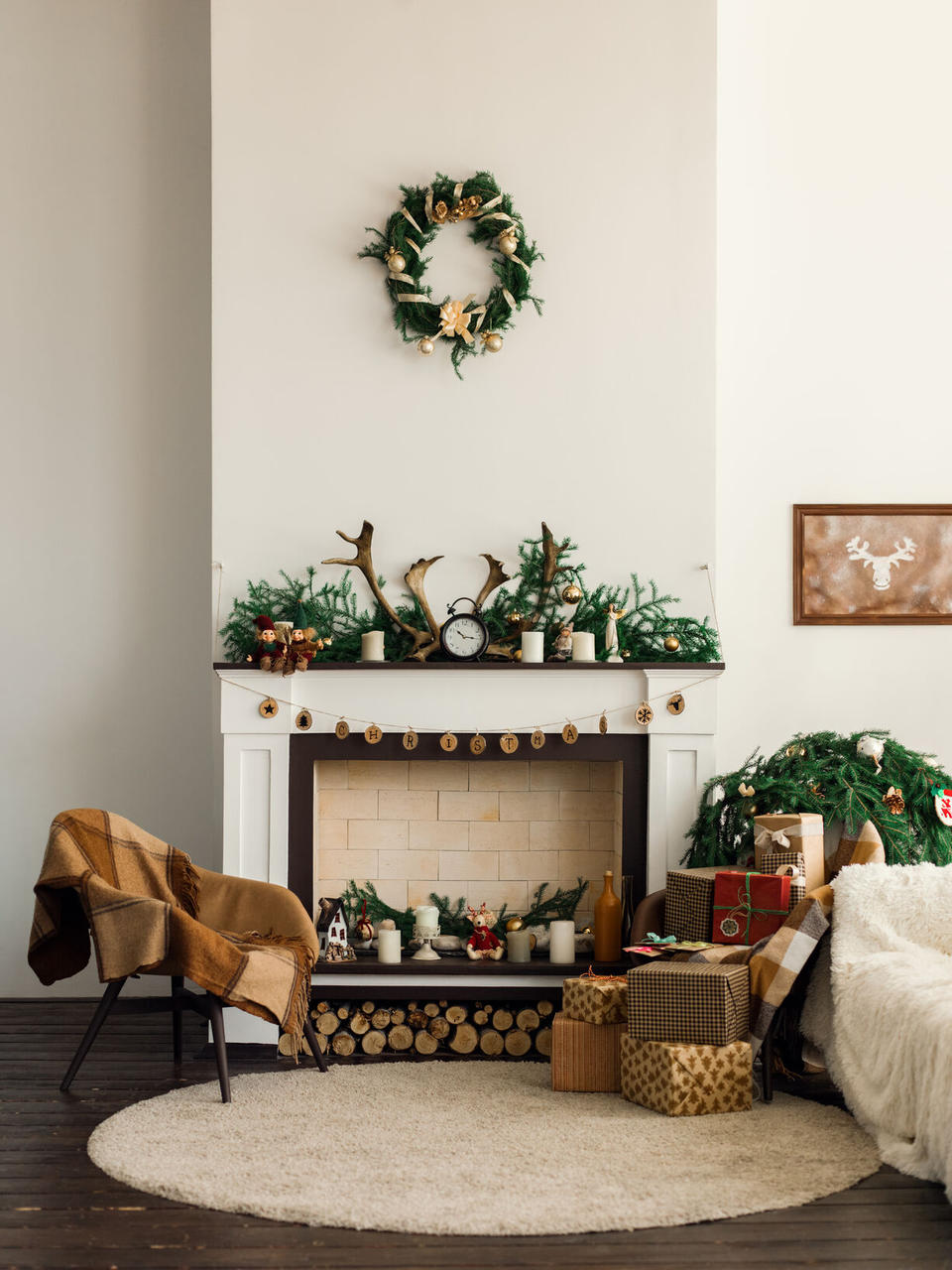 Snuggle up, Scandi-style
We've all fallen for the Danish art of cosiness, hygge, and there's no better time than the holidays to celebrate the wonders of nature, the warmth of a fireplace, and the opportunity to have your loved ones together under one roof. The easiest way to tap into this mood is by bringing the great outdoors,  inside.

Start by choosing rustic objet that bring to mind the woods in winter, and accentuate these with fresh – or even dried – greenery. Arrange bowls full of fragrant produce, like clementines and cloves, and throw in some fir cones for extra effect. Make use of holly and mistletoe as an accessory throughout the house; pin it from picture frames, weave it into frosted wreaths and place it liberally on table-tops. Curate wooden decorations and simple glass baubles for easy ornamentation. To create a sense of depth and colour, use stems of red berries to enhance the feeling of nostalgia, whilst serving a high-impact visual – all with just a touch of nature.

Add cosy layers to a room with cashmere blankets and plush cushions. Keep extra throws in easy-to-grab-from baskets or open blanket boxes as an invitation for your guests to snuggle up. Seasonal botanical hues of red and green work well with coasters in natural textures, tablemats and napkins; and for the ultimate in impactful table setting, arrange pretty place cards alongside a centrepiece of branches adorned with simple wooden ornaments beribboned in a deep, rich colour palette.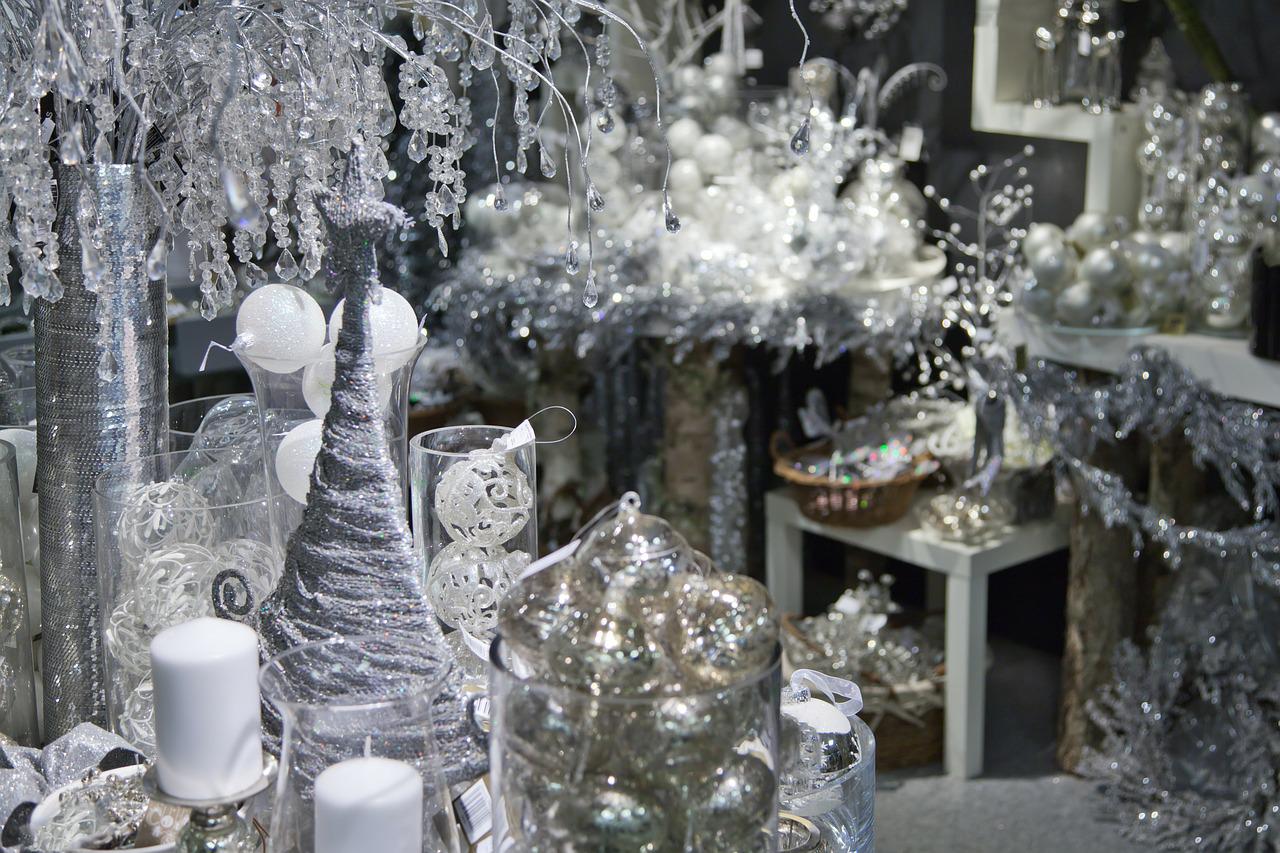 'Frozen' with florals and light
Start with the warm, inviting glow of candle light, before adding light-reflecting glass accessories to turn up the radiance. Continue this mood with an abundance of flowers, choosing bold monochromatic arrangements for key focal points throughout your home. Think of Frozen's Princess Elsa and her shimmering ice castle and you're halfway there – where elegant hues of pure white, rich cream and icy silver reign supreme.

The key to making an impact is to group items in a frieze; be it ivory candles in ornate candlesticks of varying heights, or a family of miniature woodland creatures, to a mountain of silver frosted pine logs. Gather together clusters of glittering baubles and tie them with silk and grosgrain ribbon to be hung from hooks or displayed in decorative bowls.

Plush textures are another crucial element – opt for velvet, brocade and silk. And of course, scented candles have the power to instantly change the atmosphere of a room, so as a finishing touch, choose a signature festive fragrance for your event.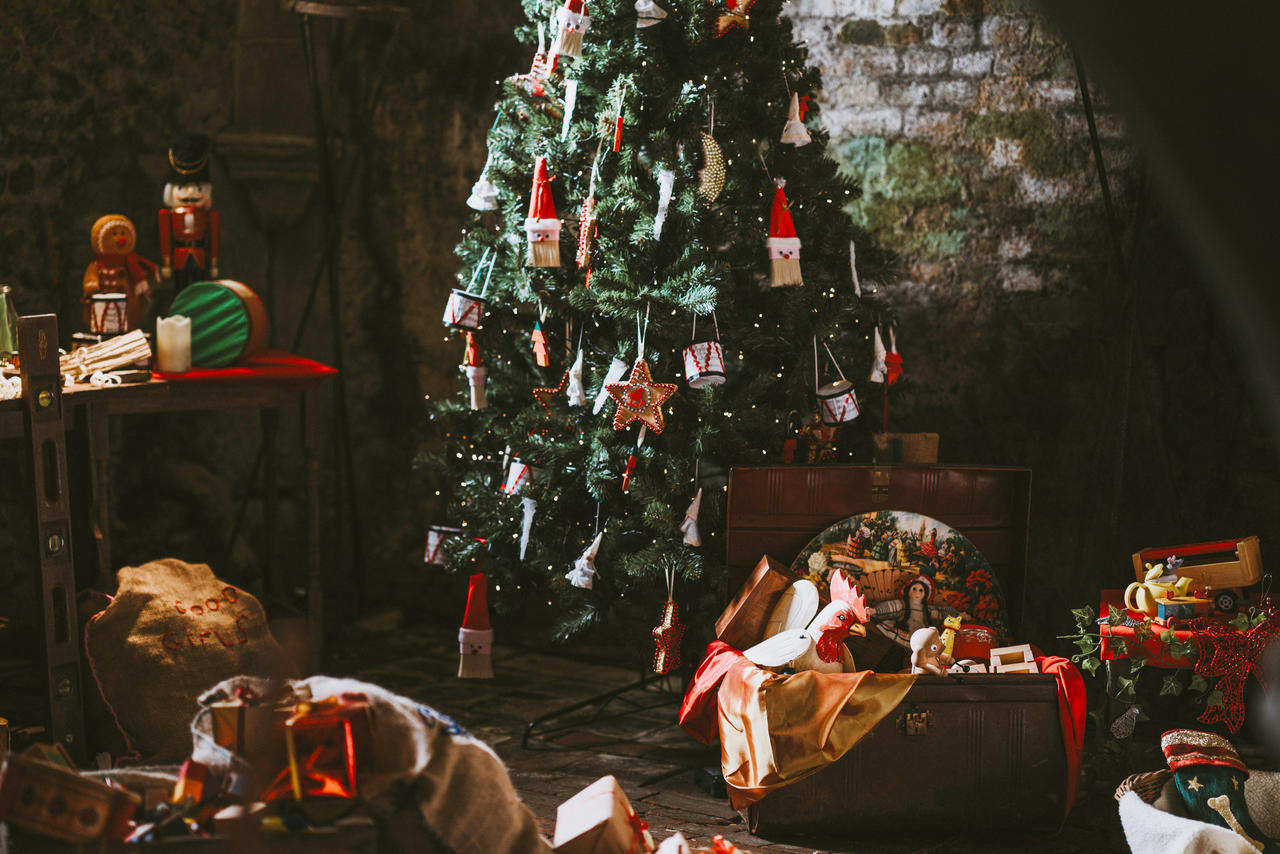 An over-the-top festive fete
Giant nutcracker soldiers. Freshly felled fir trees. Hundreds of rainbow-coloured ornaments and enough twinkling fairy lights to cause an electricity outage. While most of us may not go quite that far, we can embrace the feeling with statement pieces, glitzy soft furnishings, bold cutlery, embellished crockery, jaw-dropping crackers and sweet snow globes.

Aim for a balance of the ornate and the kitsch. Stylish holiday interiors needn't be boring or totally traditionalist if you stick to a playful but considered colour palette. Mark the occasion with bold hues and patterns that clash for a fashion forward finish — try fuchsia and pastel pinks, juxtaposed with creamy whites. If you're a purist, classic red, white and green are the obvious option, so make each ornament count. To ensure the look stays refined, keep an eye on scale; and if you're going to hang decorations, do it with abundance! Create a high-impact moment, by starting with one eclectic, perhaps slightly out-there objet d'art or piece of personal memorabilia, and let it lead you into a joyful display of nostalgic keepsakes and mementos.

The one rule to remember is that more is more, so allow your inner child to run wild; whether that be with a fleet of elves, a symphony of musical instruments, endless flickering lights or a giant glittering reindeer.