Beauty Talk: Donald Chiu
How to tackle mane concerns
With most of us now masked-up more than usual, our hair is enjoying more of a lingering gaze in our visual focus. If you want to remain looking sharp, it's worth taking note of your hair's needs to retain volume, shininess and a smooth finish. Nothing upsets sartorial harmony like follicular neglect. Here, we've asked Donald Chiu, Founder of Popstar Cosmetics, to spill his secrets on grooming, haircare, hairline tattoos, and more.
What's your skincare routine? Any favourite skincare or grooming products you'd recommend?
My skincare routine is simple yet effective. I use Patricks FS1 Volcanic Sand and Crushed Diamond Face Scrub to cleanse, followed by Venn's Age Reversing All-In-One concentrate and a sunblock - SPF 50 to be exact. I cannot stress enough that we need to wear sunscreen even if we're staying indoors to protect our skin from all the harmful rays.
Many men spend an inordinate amount of time trying to find the perfect styling product but fail to realise that their shampooing skills are what has made their hair hard to tame. The key is to wash your hair with lukewarm water and refrain from overloading your hair with product – a coin-sized dollop of product will do the job. I'm currently loving Patrick's SH2 Deep Clean Shampoo and CD2 Moisturizing Conditioner. As for styling, Adam Grooming Atelier's Hair Tonic uses a refreshing botanical formula that adds instant volume and texture.
What do guys tend to overlook when it comes to personal grooming?
Moisturising and Sunscreen
What's your biggest hair pet peeve?
What can be done about thinning hair?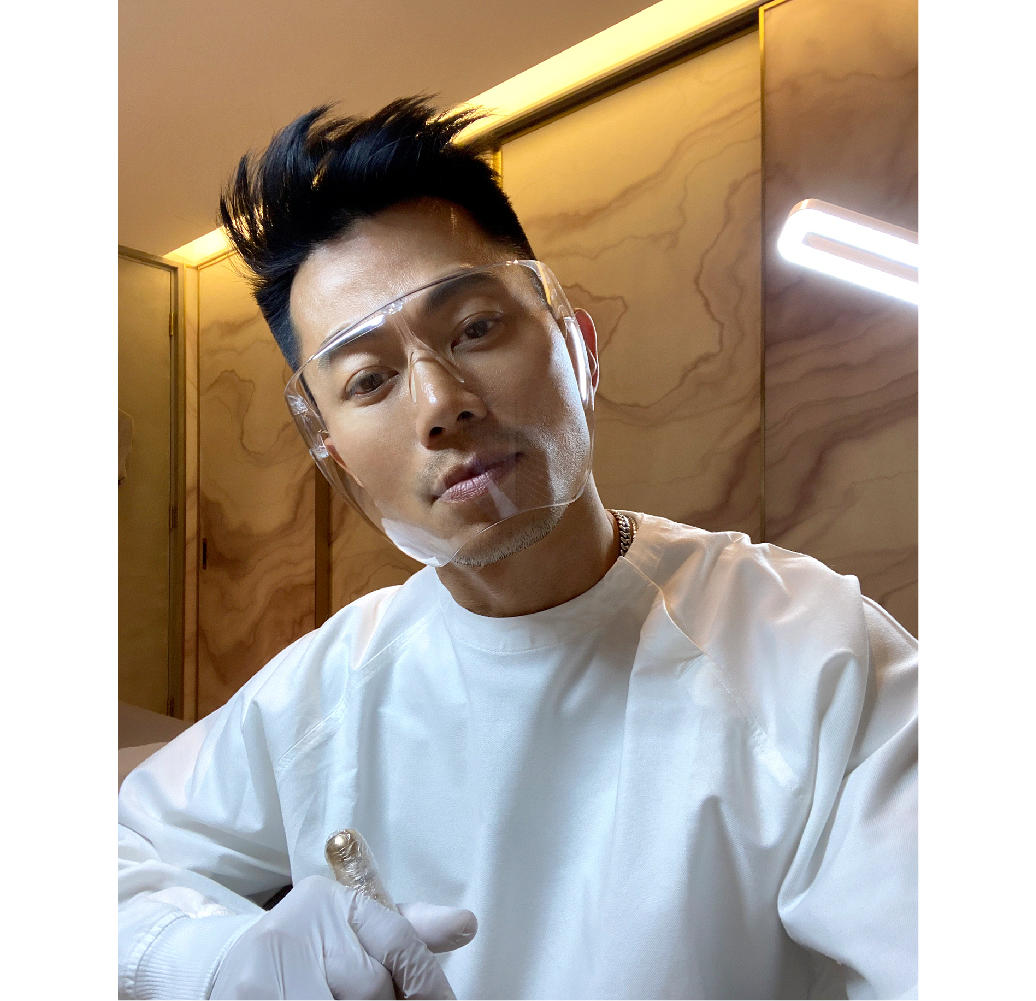 Find the cause. Good hair usually starts with a good hair wash, and not all shampoos are made the same. Identifying the right formula for your hair type is crucial. If you have fine hair, look out for products with naturally derived elements, like caffeine (which stimulates hair follicles and increases hair growth) and rosemary oil. For those with curly hair, nourishing and non-stripping shampoos will help reduce frizz without weighing down curls. Colour treated hair will benefit from sulphate-free shampoos that protects the colour of your hair while enhancing shine and vibrancy.
Employing the right method to wash your hair and scalp is equally important. Be extra gentle and don't use your nails or massage the scalp too harshly. Two rounds of gentle shampooing usually do the trick to clean the scalp – the first is to remove impurities, second is to gently massage your scalp to boost blood flow. When these steps are done correctly, you will notice the difference.
Do you have any hair thickening tips?
First, start with finding yourself the right shampoo. Proper nutrition. A nutritious diet that is rich in healthy fats (such as Omega-3), lean proteins, fat-soluble vitamins, B-complex vitamins, and iron can help thicken thinning or thin hair.
Are hair tattoos and scalp micropigmentation the same thing?
Both hairline tattoo and scalp micropigmentation are non-surgical, superficial cosmetic tattoos. Hairline microblading is a tattooing technique that uses a thin blade to create incisions that resemble hair strands in the hairline and parting where the hair is sparse to create a fuller denser look. While scalp pigmentation gives the illusion of a close buzz cut hairstyle on a bald head by using small pigments that are injected into the scalp. This involves a microneedle, smaller than normal tattoo needles, that is needed to create the look of hair follicles with precision.
Who is suitable for this treatment and what should they expect?
Hairline microblading is a great treatment for people who have experienced hair loss due to alopecia in the area, as well as anyone who wants to get the appearance of fuller hair. It is also very popular amongst people who just want to contour their face. Some people with a receding hairline camouflage it with makeup. With hairline microblading, the results last longer – they won't come off or smudge when you sweat or when your hair is wet.
How long will it take to recover?
Recovery roughly takes about a week.
Is there anything that they need to be mindful of during the recovery process?
Treat the area like you would with a wound. Keep it clean, airy, and moisturise daily with our special recovery oil.
Book your microblading appointment here or shop our edit of high-performance grooming essentials below.