Simple Food,

Easy Cooking:

Nicolas Vahé

A food experience beyond the ordinary
When it comes to food, the Nicolas Vahé philosophy couldn't be easier to embody: it is founded in a belief in simplicity. Yet in today's ever expanding world of confusing free-from and allergy alternatives, cooking up fresh and flavourful food has become more confusing than ever.
Inspired by French tradition with a distinct Scandinavian twist, Nicolas Vahé is convinced that good food doesn't have to be complicated – and we wholeheartedly agree.
Newly launched at Lane Crawford, its range of sauces, condiments, oils, vinegars and delectable treats are brimming with the very best ingredients for the quality conscious food lover.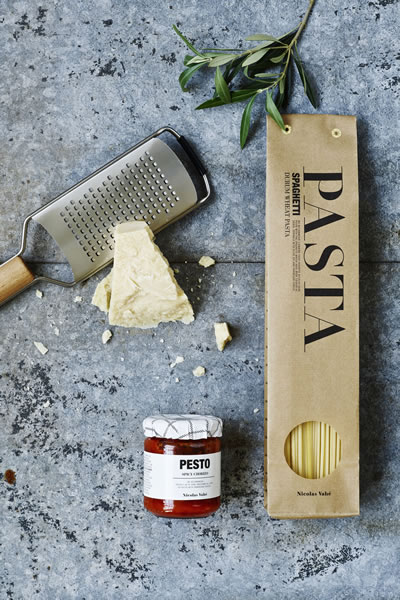 Easy Cooking
With Nicolas Vahé's range of oils, condiments, marinades and sauces, you'll have everything you need to spice up your home cooking. Discover our top three favourite recipes to make for friends and family.
Spinach Salad with
Chickpeas and Chicken
Ingredients
Salad
150 g can of organic chickpeas
1 bag of baby spinach
1 bag of frisee salad
2 tsp. dried coriander seeds
2 tsp. dried ginger
½ cinnamon stick
1 tsp curry masala powder
1 tsp. dried cumin seeds
1 tsp. coarse sea salt
2 tbsp. fresh lemon juice
3 tbsp. Nicolas Vahé Extra Virgin Olive Oil
150 g feta
2 tbsp. sesame seeds
Chicken skewers
300 g organic chicken breast
2 Nicolas Vahé bamboo skewers
4 g Nicolas Vahé Salt / Garlic & Red Chili Pepper
2 tbsp. Nicolas Vahé Extra Virgin Olive Oil
6 g Nicolas Vahé Spice Mix for Chicken
1 tbsp. Nicolas Vahé Olive Oil / Garlic
Fresh parsley
How to Cook
Salad
Wash the salad, spinach and chickpeas well. Only use the fine light green and yellow leaves of the frisee salad. Grind all of the dried spices in a mortar. Heat a little bit of olive oil in a pan and roast the spices for a minute. Add fresh lemon juice and some more olive oil. Mix the dressing with the chickpeas, and carefully add to them the salad. Finish off with chopped feta and roasted sesame seeds.
Chicken skewers
Cut the chicken into 2x2 cm cubes and marinate them in Nicolas Vahé Garlic & Chili Salt, olive oil and Nicolas Vahé Spice Mix for Chicken for an hour. Put the chicken onto the skewers and wrap them tightly in kitchen foil. Place in the fridge and marinate for at least one hour (the longer they marinate the more intense the flavour). Grill the skewers on a grill pan or a barbecue. When done, sprinkle with Nicolas Vahé Garlic Olive Oil and freshly chopped parsley.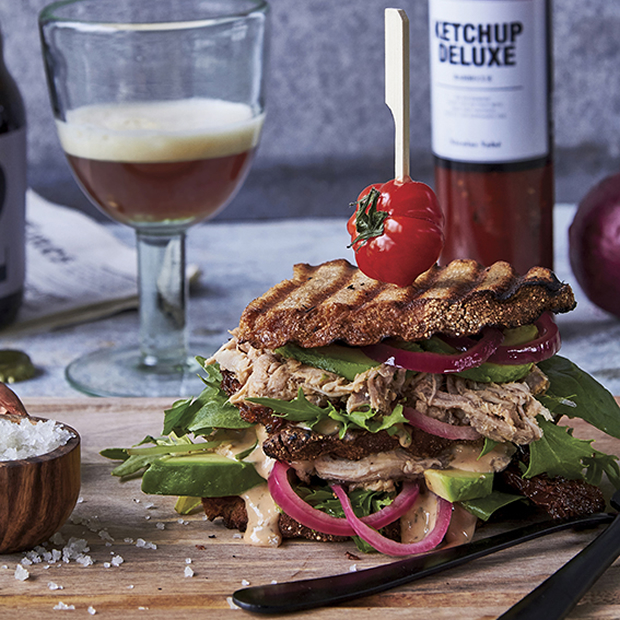 Juicy Pulled Pork with
a Ketchup Marinade
Ingredients
1 kg trimmed pork collar
100 g Nicolas Vahé Ketchup Deluxe
100 g brown sugar
4 tbsp. Nicolas Vahé Mustard
3 tbsp. Nicolas Vahé Salt
1 onion
1 bay leaf
1.5 dl apple juice
How to Cook
Preheat the oven to 150 °C. Mix Nicolas Vahé Ketchup, brown sugar, Nicolas Vahé Mustard and Nicolas Vahé Salt in a bowl. Rub the mixture into the pork collar and wrap the meat in plastic film for at least two hours. Chop the onion and place it in the coquette with the bay leaf. Put the excess marinade on the meat before placing it in the oven. Check every hour to see if there is liquid left at the bottom of the coquette - add more liquid if necessary. Turn the oven temperature down to 100 °C after three hours, and leave to roast for another three hours. Now, the meat should be tender enough for you to be able to pull it apart using two forks. Serve this juicy pulled pork together with a delicious homemade coleslaw.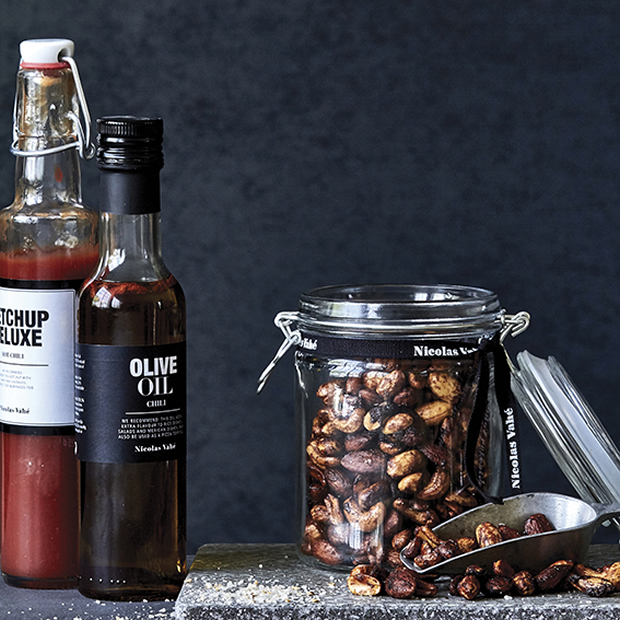 Hot & Spicy Symphony
Ingredients
100 g almonds with peel
100 g cashew nuts
100 g peanuts
½ dl Nicolas Vahé Olive Oil
1 dl Nicolas Vahé Ketchup Deluxe with Hot Chili
Nicolas Vahé Salt
How to Cook
Preheat the oven to 150 °C. Mix almonds and nuts with Nicolas Vahé Olive Oil with Chili and Nicolas Vahé Ketchup Deluxe with Hot Chili. Spread them on a baking plate with baking paper and toast in the oven for 12 minutes. Once roasted, remove from the oven and season with Nicolas Vahé Salt with Chili and Garlic. Tip: It is the perfect snack with your favourite Nicolas Vahé beer or as a simple hostess gift.