Everyday Beauty:
Kelly Wong

Showcasing the 'less is more' approach to beauty and wellness
Kelly Wong, Lane Crawford's Director of Fashion, shares her pared-back beauty routine and fitness philosophy.
"My role is essentially to look after the womenswear and menswear portfolio at Lane Crawford. I head both teams in seeking out the best new fashion talent across the globe, working closely with brands to negotiate and grow partnerships and develop and drive the product strategy. Fashion was actually something I fell into - I originally did a degree in Economics - and thought I'd interview at Lane Crawford for my first job. I thought I'd just give it a try and I've been at it ever since.
I'm actually a low maintenance kind of girl. I wash my face with Skin Laundry's Clarifying Medicated Foaming Facial Wash and use Crème de La Mer to moisturise morning and night. Makeup wise, I'm also very low-key. A simple black eyeliner and a black mascara - the most basic thing you can find.
I do feel like my hair is often out of control - it's really thick and it can get really dry so when I feel like pampering myself at home on the weekends, which is not that often, I run coconut oil through the lengths and leave it to soak in for a while. Sometimes my hair stylist likes to give me a keratin treatment to tame it, but it only lasts for two or three months.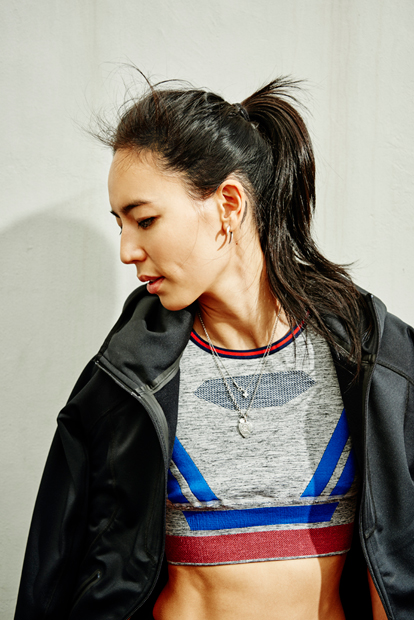 I used to be a competitive swimmer when I was younger so I've always been very active and into my sports. When I first started swimming, it was something my parents made me do and I didn't enjoy it at all. I remember the first training session I ever went to, I jumped out of the pool after 10 minutes and ran to the changing rooms, crying in the shower because I didn't want to do it anymore; it was too hard. But then, my mum kept forcing me to go and the stamina slowly built up. When I saw myself improve and started to feel the progress, it gave me motivation to keep going and that's how my love for sports began.
Now as an adult, I keep active mostly for health reasons. I really enjoy boxing and I've recently taken up spinning at XYZ with my best friend. I don't really go on diets, I eat what I want but I think not moving your body regularly and just sitting at the office all the time is unhealthy. You can feel your muscles tense up. I think moving around, even just walking more, or being able to do some exercise and sweat the toxins out is something everyone should do."